The SportsCenter twitter account sent out a tweet calling Fidel Castro a "savior." As expected people lost their damn minds. So ESPN deleted the tweet seen below, via
Guy Hut
: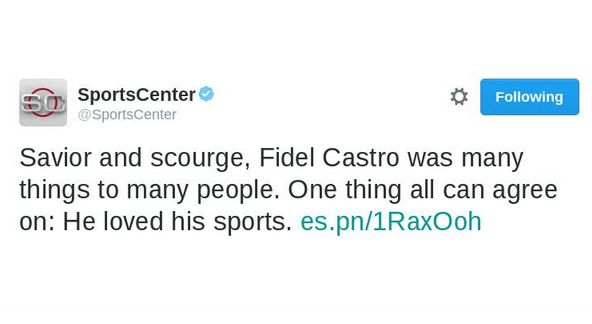 Then they issued an "our bad" tweet, which probably means an intern got canned for a tweet they likely told them to send out.
Earlier tweet excerpted from our Cuba piece lacked clarity outside the context of larger feature. Deleted it without explanation - our bad.

— SportsCenter (@SportsCenter) March 21, 2016
If you've learned anything from they way they operate you've learned that you've gotta have a fall guy. Cris Carter told us all about it.
Who is running social media over there Sean Penn? Just stick to sports ESPN nobody cares what you think about anything else. Hell we barely care what you think about sports anymore.